Testimonials for AV Dental.
If you'd like to share some kind words and smiles, please ask our front desk staff for a comment card at your next appointment.
We'd love to hear about your experience!
Read patient testimonials below.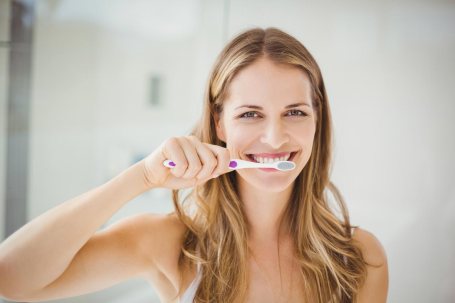 Everyone was very professional and caring. They explained everything they did. I was seen on time. I highly recommend Dr. Woo if you need a dentist.
I never thought I would find a dentist that I liked. I have now. I am so grateful for Dr. Woo – he and his staff are kind, gentle and never pressure you to have work that is questionable.
Dr. Woo and Associates always do a fantastic job! I love going to the dentist!
Dr. Woo and his entire staff make one's visit to the dentist a pleasure! They are prompt, professional, friendly, and thorough. Dr. Woo is extremely competent and caring, and I always leave feeling as though my questions and concerns have been addressed. I would highly recommend this office to anyone!
I have been going to Dr Woo from the time he took over the office. I was a typical patient when he arrived, with all of the problems a person who doesn't know about and has done nothing about for a while, had. Dr Woo and his staff have worked with me to turn my problems into victories, and have done it in a way that makes me feel comfortable about coming to the dentist. I recommend him and his staff highly and am looking forward to maintaining a healthy mouth for the rest of my life.
Dr. Woo is an excellent dentist. He explains the problem, if there is one. He is very patient as well. His dental hygienist is terrific as well–friendly and explaining any problems and suggesting ways to alleviate them. I am delighted to have such wonderful dental care.
Dr Woo is very professional. His office runs in an efficient way so that I have not had to wait more than 5-10 minutes in the numerous times I have visited. He takes time to explain the procedures or issues. He is very thorough and careful in his work. The dental hygienists and office staff are also friendly and professional. Their work is excellent.
Dr. Woo and all of his staff were very friendly, professional and informative. I could not have asked for a better experience at a dentist office!
I have been a patient of Dr. Woo's since he started the practice, taking over from Dr. Murchie who retired. He has modernized the dental equipment, e.g digitizing x-rays, etc. – and overall I have been more than satisfied with his services and those of his staff. It is a pleasure to deal with his office.
WOW. Every person with whom I interacted in this office was phenomenal in excellence, professionalism, warmth, compassion, and patience. This was the best experience I have received from any doctor's office whatsoever; every single thing this staff does is clearly intentional/ strategic/ thoughtful. The fact that the doctor took an entire hour to meet with me for my first visit BEFORE the actual cleaning to thoroughly understand everything about me, take careful measurements, do cancer screening, etc., was just incredible; this goes such a long way with a new patient to receive this level of care. They did not have to make time for this, and yet they did. I think what also really shines through is each staff member's joy for his/her work, which makes the entire experience wonderful for the patient. They spent so much time answering my questions and giving me great tips/tutorials with great patience. I will be recommending this office to everyone I know!
Dr. Woo and his team are pure professionals. You'll be greeted warmly every time you visit or call by Connie and you'll be treated with care by hygenist Laura. Could not recommend any doctor's office more highly.
I have seen so many different dentists since I've been in the area — some I liked but insurance switches forced a change, some I left for other reasons. I have to say, that I have not had an experience this pleasant anywhere in the area. Everyone was super friendly, but always professional. Actually didn't leave one finger imprint in the chair arms, so I must have been at ease. Thanks to the whole office.
I have been seeing Dr. Woo for several years and have always found him and his employees to be friendly, efficient, considerate and helpful. I would recommend their services to anyone. They are always on time, but never make you feel rushed with their care.
Always exceeds my expectations
From the first moment I called to inquire if Dr. Woo's office took my insurance, to scheduling an appointment – all the way through my initial exam and regular cleaning, I felt welcomed and very nearly pampered. Everyone inquired after my comfort and did everything in their ability to dispel any anxieties or even just enhance my comfort level. They are professional and caring. They make an effort to give individualized treatment and respond to any questions, creating an environment best suited to me by responding to my explicit preferences. I'm actually looking forward to going back! And I have utmost confidence in their ability to give me the right care for my teeth.
After a horrible experience with my first dentist in Virginia, I went over three years without seeing a dentist or getting an exam. I read reviews of Dr. Woo on my website and was thrilled that he was one of the few providers who accepted my insurance. Even though I was terrified of going to the dentist, everyone at the office went out of their way to make me feel comfortable. Connie at the front desk goes far out of her way to answer your questions and help you with insurance, scheduling, etc. Dr. Woo and his team are phenomenal. He thoroughly explained his procedures and findings, and his team of dental assistants and hygienists walked me through the basics of proper flossing and brushing techniques to improve my dental health. Dr. Woo himself said that his office takes pride in making an appointment feel more of an educational experience than an hour of torture, and the team truly delivers. I recommend Dr. Woo and his team to anyone in the DMV area seeking a high quality, friendly dental office.
Dr. Woo and his staff are friendly, professional, and thorough in all that they do. I am proud to say that I have finally found a dentist in the area that I like and would suggest to my friends and family.
Dr. Woo and his amazing staff provided a great dental experience. His staff was extremely welcoming, friendly, personable, and helpful. Dr. Woo made sure to find out exactly what I wanted from my visit and provided excellent care and service throughout my multiple appointments. I could not be happier with the service and care everyone has provided me. Thank you!
No one loves going to the dentist, but after a visit to Dr. Woo's office, you may start to like it! Connie greets you when you arrive and is extremely friendly and helpful. I expected this already… since I had spoken to her on the phone a couple of times. The assistants and hygienists are all welcoming, sociable and attentive. Dr. Woo makes you feel comfortable beginning with your first visit, where he gets to know you before anyone puts their fingers and tools in your mouth. He gets to know you and discusses dental health. This sets up an immediate change in your thoughts of going to the dentist. You begin to realize that these people are just starting to document your dental hygiene for as long as you visit… they aren't just cleaning your teeth and pushing you out the door. They are building a relationship that encourages you to be more aware and proactive about your dental health. I would highly recommend Dr. Woo and his staff to anyone looking for a dentist who actually cares about their patients.
I've been a patient of Dr. Woo since he took over the practice years ago. EVERY experience I have had with him and his staff has been exceptional. They are friendly, professional, helpful, honest and on time. The only thing I don't like about them is they make it so hard to go to any other doctor's office!!! I wish every office was as friendly and professional as theirs!
Dr. Woo and his staff are outstanding providers of professional dental care. Dr. Woo explains things very clearly and is open to questions. The staff is very courteous and delivers great customer service. The pricing of the dental work is very reasonable and much better than other dentists in the area.
Years ago I went to a dentist who outlined expensive work which he deemed to be essential for my dental health….the work was really more about his financial health! In Dr. Woo, I have found a thorough yet conservative dentist! He's a very personable professional with an outstanding staff….I know it's hard to believe, but it's a pleasure to visit Dr. Woo's office!
Dr. Woo and Laura go to great lengths to give outstanding service – professionalism with a very personal touch! And Connie – at the front desk – is the epitome of friendliness!
I am thoroughly pleased with the dental services I have received for years at the office of Dr. Jansen Woo, DDS, in North Arlington, VA. My dental hygienist is very pleasant as well as professional and highly skilled. And Dr. Woo is personable, attentive, and compassionate as he explains to me the status of my oral health. I'm always given an update about the status of any conditions of teeth or gums and information – including cost – about a range of treatment options. Mostly, though, with their care and guidance I'm able to keep everything in good shape. I am happy to feel entirely comfortable in going to see this dentist and his cheerful staff, knowing that even if there were a problem I'd be treated with state of the art knowledge, skill, and respect. I am glad to recommend Dr. Woo's practice without reservation.
Dr. Woo has a great team that gives all that they can to serve and care for me and my teeth. They are warm and friendly. I feel very well cared for. I am always happy when I walk in the door. I immediately feel the kindness of everyone who is a part of Dr. Woo's team, each time I visit. It is a very pleasant environment. I never feel rushed. I have never been kept waiting. Appointments have always been on time. It is a team that is very mindful and considerate of me. I have been a patient for several years. In my adult life, I have probably seen more than 10 different dentists. I finally found a great dentist, a great team. Their caring has rubbed off on me. I care about myself a bit more. I floss everyday. I was bad about that, before.
Dr. Woo and his staff are terrific, and I feel that they have my best interests at heart. I appreciate the conscientious work my hygienist Laura does. She is thorough and skilled and has a delightful personality, as does Connie at the front desk who should be awarded "Receptionist of the Year." All of the staff are professional, but also pleasant and friendly. They make each visit an enjoyable one, regardless of the procedures being done. I highly recommend this practice.
From the time you enter the office until the time you leave, you can count on the staff and Dr. Woo to make you feel comfortable about your visit. You're greeted with friendliness; your treatments are explained thoroughly; your 'homework' is explained in detail and demonstrated to make sure you understand; and finally you are given options to handle billing. Everyone in the office is extremely professional, yet personable; and is there to "help" you.
I am picky about my dentist and have had bad experiences with other dentists. Dr. Woo is top notch. I have had a lot of crown work done by Dr Woo and (about 6 years ago) and have been very pleased with the results. He and his staff are very welcoming, friendly, and thorough and take the time to address concerns and dental options so that problems can be resolved or avoided in a timely fashion. Dr. Woo's practice provides excellent preventive care. Both of my sons (age 18 and 15) have never had a cavity and praise Dr. Woo's practice as well.
The friendly service makes going to the dentist not seem so bad. The staff is always friendly, and it's their customer service that makes me return, and recommend family/friends.
Dr. Woo and his very professional staff are to be commended! They are always on target both professionally and individually. They are friendly, efficient and Dr. Woo's work and work ethic is exceptional.
Everyone at Jansen Woo's office was amazing! It was such a great experience – from checking in, to explaining in detail the health of my teeth and treatment options. I've already recommended him to coworkers and friends!
Dr Woo and his staff are wonderful. I recommend him to all my friends. They are friendly and care about you as a person. Dr Woo gives good explanations about what's going on with your teeth, any problems you might have and what your options are for treatment and what would/could happen if you choose not to do treatment. I'm also impressed with the technology they use.
I have been seeing Dr. Woo for years and he and his office are beyond compare. I have had extensive dental work in my life and know many dentists. Dr. Woo is the best of all of them–he carefully explains everything, gives you options for cost savings when needed, understands your situation, and the work done is even commented on by other dentists like periodontists, etc.
Dr. Woo and his staff exceeded my expectations. I was able to schedule an appointment at my preferred time and was seen promptly the day of my visit. I appreciated the thoroughness of the visit and the amount of time Dr. Woo and his staff dedicated to making sure my teeth were healthy and I had my questions answered. It was also very helpful to know upfront an accurate estimate of the time the first appointment would take, and it was nice to be able to fill the new patient forms out online. Thank you for an excellent experience!
In addition to professional service, Dr. Woo and his staff are kind and caring. There is no push to spend extra money. It is professional and relaxed.
Since the first day at the office, I felt like I was between a group of people I knew for long time. Then the attention was superb, and the performance of the service excelent. Felt like I been their patient for long, long time.
I will miss Dr Woo and his practice. He has been my dentist for the last 6 years. He is great, always available, very knowledgeable, and answers my questions. I highly recommend him. I am moving to another state, hopefully I will find someone that good in Florida. Doubt it, Dr Woo has put the bar very high.
Dr. Woo and his staff are simply outstanding. They are extremely patient and I never feel rushed or pushed out the door. Dr. Woo takes his time and is a perfectionist. He will not stop until he is satisfied, and knows the patient is too. My whole family has been seeing Dr. Woo from the beginning of his practice. I actually enjoy my visits to my dentist now!
In Dr. Woo's office you are the friendly focus of a truly expert team – you never feel that you are being ignored. Everyone you deal with is intensely focused on giving you or procuring for you exactly what you need for health comfort, and convenience.
I highly recommend this office for dental care. The whole staff is extremely polite, friendly, informative, patient and professional. Every experience I have meets my highest expectations. Dr. Woo is a wonderful dentist!
I left Dr. Woo's office exclaiming, "THIS is how a dental visit is supposed to be!!" I relocated to the Northern Virginia area and my co-worker suggested Dr. Woo. Dr. Woo and his team provided the most thorough and enjoyable first-dental visit exam and cleaning I have ever experienced! Dr. Woo is very knowledgeable and his equipment is so high-tech, but he is also incredibly gentle, respectful, and kind. I felt very well taken care of, learned more about my teeth and mouth than I ever knew before, and left feeling very empowered and energized. Jan did my cleaning and was AMAZING. Best cleaning I've ever had, and she is also incredibly kind, encouraging, and sophisticated in how she balances doing the cleaning and getting to know her clients (asked questions at the PERFECT time!). The receptionist was the most graceful, kind and welcoming person I've ever met at a medical office. The wait time was short, the office was incredibly clean and welcoming, and I will never go to another dentist!
I have been a patient of Dr Woo's for several years, and cannot say enough good things about this practice. Everyone is incredible professional and kind…the office manager Connie is one of the nicest people I've ever met and the rest of the staff is equally sweet. Dr woo does excellent work–I've had extensive work done with crowns and veneers over the years with a number of different dentists and his work has been by far the best. He is also very gentle–the novocaine shots never hurt when he administers them. I recently began taking my three year old son to the office. While the office is not specifically a pediatric office, it has been a wonderful experience. Everything was explained in a way he could understand, and he was thrilled to pick out his protective glasses (cheetah frames) and his toothbrush head (tiger) and even the flavor of toothpaste he wanted. Just a great office!!
I enjoy being a patient of Dr. Woo. I always have been treated with professionalism and efficiently. The whole staff office really take care of all your concerns, and are very kind.
Dr Woo is an excellent dentist. He is very thorough in his exams. His office staff are friendly and professional. I would highly recommend him.
No one really enjoys a trip to the dentist, but Dr. Woo and his staff always makes it a very smooth and pleasant experience. I've been to offices where I felt uncomfortable. I've also been to office where although the dentist treated me nicely, I did not appreciate how he treated his staff. Here, it's a family and they treat you as part of that family. They're honest and open about what's going on, what's the best course of action, and the cost. Most importantly, no one forgets your name. My family and I will continue to come back. And I will definitely recommend them to anyone. Thank you, Dr. Woo and staff for all you do and how you do it.
Have been a patient of Dr. Woo for several years. Good dentist. Good guy. Good staff. Couldn't ask for more.
Just recently relocated to the Arlington area. Dr. Woo was quick and thorough. I highly recommend.
For me "going to the dentist" is no longer a cause for anxiety. At Dr. Woo's office, from the moment I sent foot in the waiting room, I'm warmly welcomed by the office manager who is more a kind pretty face. She is efficient and has dealt with insurance on my behalf. The hygienist is thorough and explains what she's doing as she does my half yearly cleanings. Dr. Woo is calm, gentle and also explains what he's doing as he works When treatment is needed, he is very clear about why. The instant computer photos of my teeth are very informative! Because I have been a patient for several years, I know that procedures are recommended only when necessary –and will be done efficiently and virtually without pain.
A visit to Dr. Woo's office is an unparalleled dental experience. From the first call, where they appropriately set expectations for your first appointment, to email reminders of your appointment, to sitting down in the chair for your check up, I've never had such attentive care. But it's not just me, many of our staff rave that they've never had such a great experience at the dentist -in fact, nearly everyone on our 100 person staff now know about Dr. Woo's legendary care.
The personal service is super! If I have a treatment done Dr. Woo calls me personally to check on me and my husband. The office is very clean and modern. The location is very convenient and the entire staff is highly competent – attends regular dental conferences to maintain current trends in dentistry. Highly recommend!
I travel out of my way to see Dr. Woo because he always does an excellent job taking the time to explain all dental issues with me. I highly value his educational philosophy, which is rare among dentists (or at least the ones I've seen in the past). Dr. Woo surrounds himself by competent, professional, and extremely friendly staff. Seeing the dentist is no longer something I dread! Thank you Dr. Woo and your A-Team staff!
As well as being extremely skilled and professional, everyone makes you feel very much like a returning friend and are ready to listen to all questions. Dr. Woo is thoughtful and takes time to be thorough. Always a pleasant experience.
Friendly, kind, patient, professional and reasonable. Dr. J and his team rock!
This was probably the best experience I have ever had at a dentist office! From calling to schedule my first appointment, to my oral exam with the dentist, to getting my teeth cleaned, every part of my visit demonstrated the genuine kindness and helpfulness of the entire staff. Before even looking at my teeth, Dr. Woo took the time to find out how to best care for me as a patient and make my visit as enjoyable as possible. Any questions I had were welcomed and answered. I enjoyed the staff so much and felt so taken care of that somehow my visit to the dentist office became the highlight of my day!
From the minute you enter Dr. Woo's office you are treated with friendliness and professionalism. All the procedures and recommended treatment are explained thoroughly.
We are a military family, meaning we have seen a lot of different dentists because we move so much. Dr Woo and his entire team are by far the best I have ever had the pleasure of working with. I have never enjoyed going to the dentist myself but Dr Woo has turned that all around even having replaced a crown for me. I couldn't believe how well that went. I have two girls and they both enjoy their checkups as well. He and his team are simply the best you will ever have.
Dr. Woo is the best dentist I have experienced. His staff is friendly and still professional. The entire group strives to make the experience as easy and quick as possible. Above all, Dr. Woo is highly competent and personable, making clear his plan of action and his reasons why.
If you are looking for a dentist, you are a fool to look any further! Dr. Woo and his staff overflow with the kind of warmth and above-and-beyond customer service that is unfortunately all too rare these days.
Dental care at Dr. Woo's is guaranteed to be an exceptionally professional, delightful and excellent experience. Dr. Woo and his marvelous team of dental hygienists and administrators truly do their jobs with great warmth, organization and care. I have learned so much about care for my teeth and improved tremendously in such an educational, professional, excellent environment. I would absolutely recommend Dr. Woo's office to everyone and will never switch dentists again.
Everyone is so nice and you don't get treated like a number. They remember and ask about family members and even the dog! Jan is a great hygienist and Doctor Woo is very good at explaining treatment options. I have already recommended Dr. Woo to one of my friens and he became a new patient.
Dr, Woo is a very good dentist and I know dentists. I drive an hour or more to see him if that says anything. He's good, very caring and treats his patients like family.
I have been going to Dr. Woo's office for many years now. He is wonderful at explaining what is wrong, and the procedure he recommends to correct the issue. His staff is so nice and accommodating, I would not go anywhere else!
If you are unhappy with your dentist or new to the Northern Virginia area, I think you'd like the dental practice of my dentist, Dr. Jansen Woo, located on N. Fairfax Drive in Arlington near George Mason University Law School. Dr. Woo and his staff are very friendly. He's talented and patient. You never feel that he or any staff member has only a limited amount of time for you. This practice would be ideal for a young family that wants a long term relationship with a dentist who is younger than 40. Dr. Woo is married and has two young daughters so he understands the concerns of young families. (By the way, he's an avid Washington Capitals hockey fan, so if you have a youngster who follows the Caps, he or she is going to absolutely love this dentist.)
I have been a patient of Dr. Jansen ever since he took over the practice from Dr. Merchie. For many, a dentist visit is not something to look forward to, but I do. Dr. Woo office is very high tech, but only to improve my dental health, not to impress me. The care I have received from Dr. Woo and his dental Hygienists, Laura and Jan, has been fantastic! I really like how they tell me everything they are going to do before they do it and if and when they find a problem, they explain it so that I can understand and how I can treat it. Dr. Woo is extremely personable. He always greets me with a smile and a handshake. He always explains the treatment clearly before we begin. At the end of every session, regardless of whether I need a treatment or not, he always ask me if I have any questions for him. You could not find a more thorough or competent dentist. So if you're looking to a have a great dental experience, contact Connie and she will get you scheduled right away!
Dr. Woo and the hygienists are great. They provide a gentle touch that most of us are looking for when it comes to dentist's offices. Everyone's great and will work with you regarding treatments and expenses.
I'm very thankful that Dr. Woo and his staff go above and beyond to make my dental experience comfortable and friendly – from making an appointment, being in the office, explaining everything to me, checking in throughout procedures, etc. It's a great office and I highly recommend it.